So I'm starting this new thing – let me know your thoughts!
I've had a lot of people ask me where I get my cute "mom clothes" – and let me be the first to tell you how shocked I am at these requests…me and fashionable in the same sentence is almost laughable. I am an everyday work at home momma who wears a t-shirt and jeans half the time, and yoga pants with a workout tee the other half.
I have started to branch out a bit and try my luck with "actually" getting ready some days (usually Sundays, let's be real here) and trying to find good, quality pieces that will transition my t-shirts with the least amount of work possible.
Every Friday (I hope I am that consistent), I'll be putting together a few of my pictures with the details on where I purchased the clothing items – or similar items – PLUS I'll share some good finds from other MORE FASHIONABLE mommas!
If you're friends with me on Facebook or Insta, you have seen this look most recently. When I first found out we were prego I knew I needed some new wardrobe pieces to fit the winter and spring time here in California. So many people recommended PinkBlushMaternity.com and I have not been disappointed yet with any of my purchases. Although I will say, I bought a pair of distressed skinny jeans from them – which I wear almost daily – but now that my baby bump is almost full grown, the belly panel hits almost at belly button level. I usually just roll it down so you can't see the line. But if that bugs you, I'd probably look elsewhere for pants/jeans.
This Black and White Striped Dress I got from Pink Blush is SUPER comfortable and stretchy. My favorite part about most of the pieces I have from this company is that MOST are wearable post baby. This dress included. I apparently am a sucker for anything striped, so a black and white striped comfy dress is perf!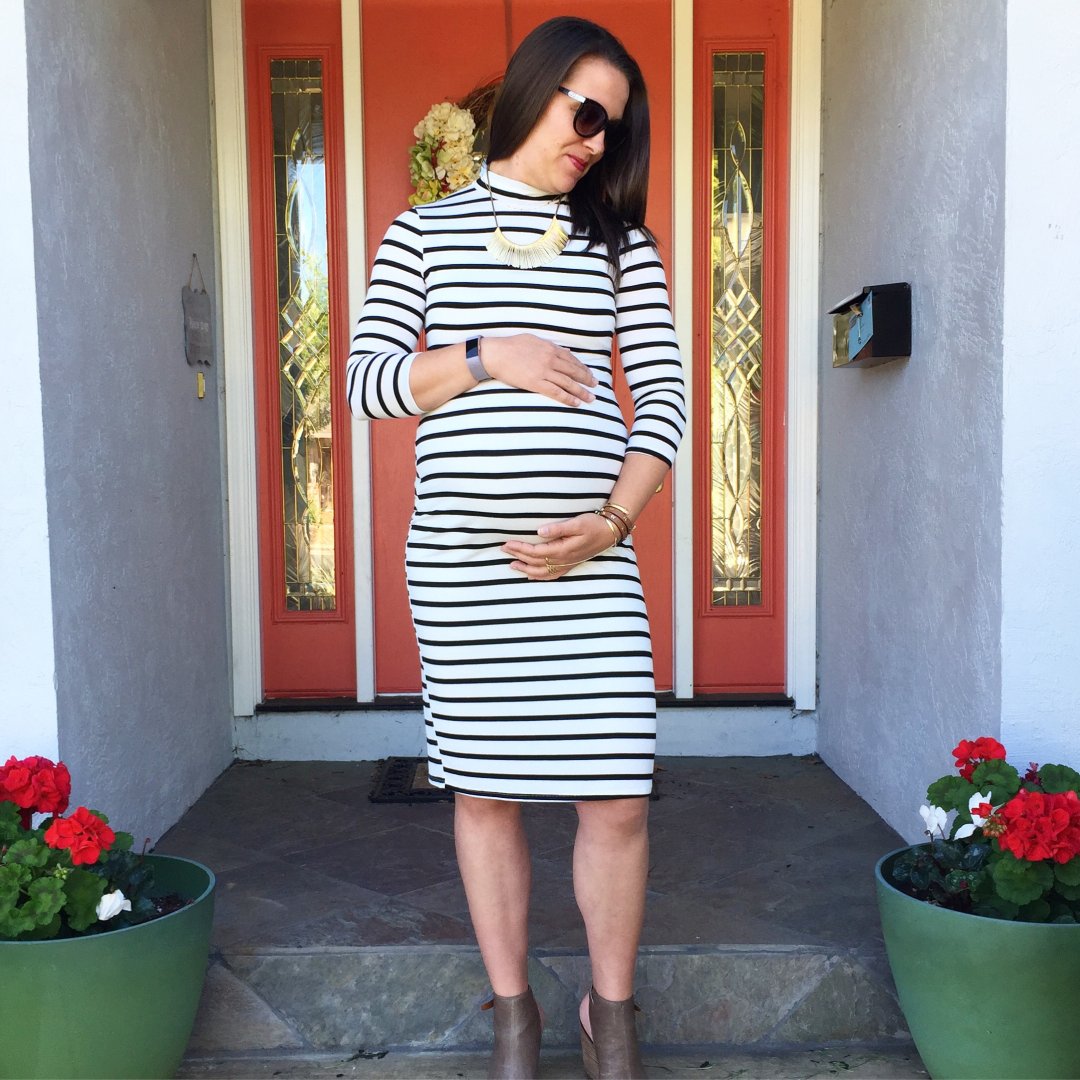 I paired the dress with the Lucky Brand  Risza open toe wedges – but they're sold out! You can find similar Lucky Brand Styles from Nordstroms
here
(you can find similar ones from Amazon 
here
) and of course some
Stella
jewels.
Now for the "actual fashionable" ladies to get debuted! First up is my good friend Shannon Willardson. She is the voice of GBOFashion.com and has been a fashion blogger for over 4 years. She is a momma of 2 adorable kiddos and an Idaho girl at heart. Her style is impeccable and I absolutely love everything she wears – secretly hoping one day her garage filled clothing items can make there way to my house! Follow her on Instagram or Facebook to be inspired…seriously…she's that good! AND she's an AMAZING person – for real, for real – love her kindness and sincerity. She's one of the many wonderful ladies I get to call my friend out here in Cali!
Seriously…how cute is she? And I LOVE her blog posts as well – she shares the details on all of her pieces, including some worthy splurges and perfect savers for all your wardrobe needs. You definitely should check her out!
Let me know your thoughts on this type of post. I'd love to hear what ya think! It's kind of fun for me to do and I hope you like them!!
Have a fantastic Friday all!
~xo~